Restoring your roof not only adds value to your property but also makes your home stand out! Amongst many benefits you will receive from roof restoration if your roof is in need of multiple repairs, then restoration may be the cheaper and most suitable option! At Rainbow Roofing, we are specialists in roof restorations and can help you restore your roof to its former glory.
Rainbow Roofing has restored roofs for hundreds of homes all across WA from Perth to Mandurah and country locations. Our service to WA for over 30 years has seen us become recognised, leading specialists in the roofing industry, particularly for restorations. Our fully qualified team are conveniently based south of Perth and strive to provide high-quality workmanship and friendly, professional service. Our team takes the time to listen to and understand all our customers – you will be quoted and serviced by a tradesman and not by a pushy salesperson!
Why you should look at getting a roof restoration: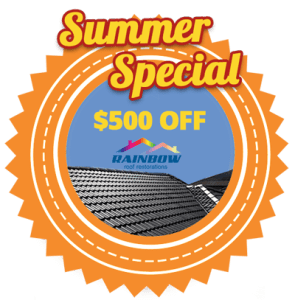 Protection from extreme weather conditions
Reduced water damages
Increase the longevity of your roof
Protection from unwanted animals in your home and ceiling
Cost of a Roof Restoration in Perth 
A roof restoration can range in cost and depends on the size of your roof and your requirements.
Some factors that are taken into account when pricing our roof restoration can be site access, the condition of the roof and some roofs might need repairs and tile replacements prior to commencing the job. When pricing out a job taking into account the type of roof, metal roof repairs have a different process to tiled roof restoration. The best thing to do is get an inspection and receive an on-site obligation free quote to ensure that everything is covered.
The quote we provide will be the final price and you are always in control of your spend – check out some outstanding reviews we've had from previous customers! Contact us today for more information or to book a service.